kengo kuma wins the design of the kamal theater in the russian republic of tatarstan
kengo kuma's performs the spirit of tatarstan
competition winners have been announced for the architectural concept for the galiasgar kamal tatarian academic theater, with first place awarded to the consortium led by kengo kuma and partners. other studios as part of the consortium include werner sobek ag, wowhaus bureau, and the personal creative atelier of german architect bakulin alekseevich.
the project is expected to be implemented in 2025, and will present a new home for the galiasgar kamal theatre, one of the region's oldest tatar national theaters in russia. the work will celebrate the history of its site in kazan, the republic of tatarstan, with its "interpretations of tatar art, its rich repertoire and the use of different techniques and the tatar language".
images © wowhaus office
echoing the region's natural "ice flowers"
with first place awarded to kengo kuma & associates (see more here) the kamal theater design competition called for teams to use 'architectural language to express the part of national culture which has been cherished and performed by the theater company for decades.' the team led by kengo kuma was inspired by the natural "ice flowers" ​​that are rarely found on kaban lake. in winter, the architecture will visually merge with the clustered shards of ice on the surface of the lake.
this natural phenomenon has turned into a new architectural attraction for the city, which will be organized around three halls. the main, universal and oriental halls will be complemented by creative and teaching studios, a public space and rehearsal and administrative areas.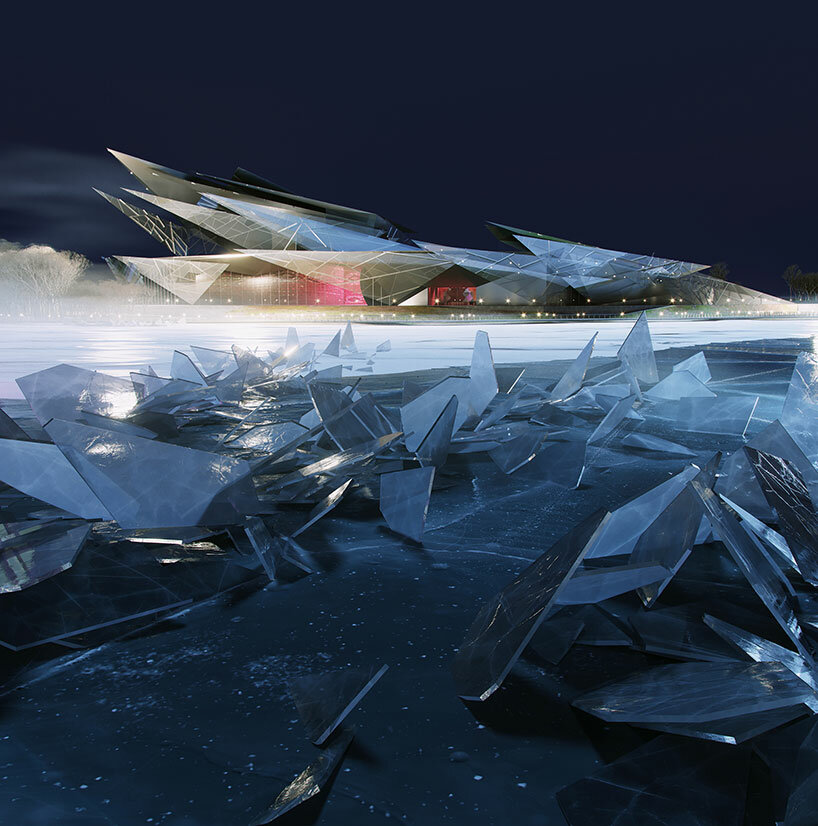 pointed exterior encloses a soft interior
the consortium led by kengo kuma conceives its kamal theater as an extension of the landscape. the built space incorporates a park with a network of pedestrian paths and riverside recreation areas. the team notes that its design expresses the spirit of the republic of tatarstan. while the exterior appears sharp and closed, the interior space is soft and hospitable. the lighting concept is to illuminate the warm interior space of the foyer and gradually dissolve the light with the triangular panels of the facade. the brightly ornate paneling inside references traditional Tatar craftsmanship creating a welcoming atmosphere.